3-day Fes to Marrakech desert tour – highlights: · Driving across the Middle Atlas Mountains and watching Barbary apes in the cedar forests
From Fes to Marrakech 3 days Desert Tours  you will experience the Sahara desert of  our unique country, we will  take you through High Atlas Mountains to get a taste of Morocco's art and history. Besides, you'll get the opportunity to do Camel Trekking in Sahara Desert that one shouldn't miss in life. There are gorgeous places to visit, architectural sights to see and incredible experiences await you on our tours. We are able to offer you unbeatable prices and unparalleled value. All our Adventures are   Breaking down the cultural barriers of traditional tourism, organized by an insider local women and female tour leader taking you away from a beaten path, real life experiences where we focus on  immersion. Each itinerary includes opportunities to learn from local women. Whenever possible we stay in women-owned hotels, eat in women-owned restaurants, work with women-owned suppliers and invest in women-owned businesses. We believe women can and do change the world.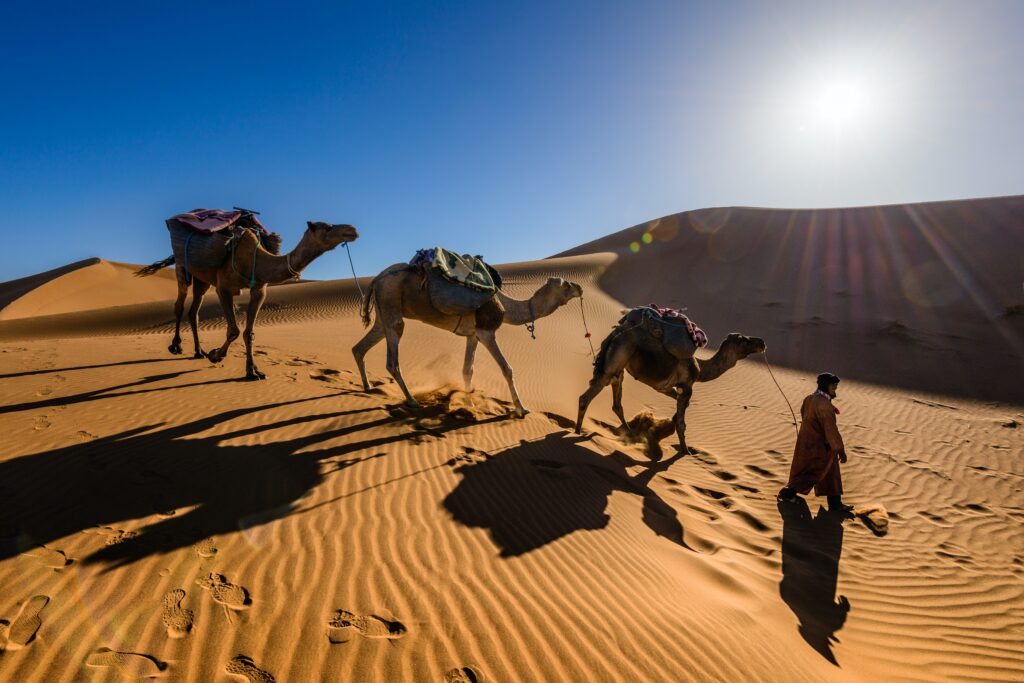 DAY 1: FES – MIDELT – ZIZ VALLEY – ERFOUD – MERZOUGA
The tour start early in the morning around 8 am your guide pick you up from your Riad/Hotel and start a long driving day across the high atlas mountains leaving the old city of fes In the way we will pass through the most modern and clean city in the country Ifran. This Berber name of Ifran means caves and it is nicknamed in Morocco as a little Switzerland since it is a very green town and is a ski resort in the Middle Atlas region of Morocco because of its high altitude at 1665 meters.
After we will stop in ziz valley To the south, the valley present a spectacular sight: a dense canopy of palms wedged between ancient striated cliffs, which date to the Jurassic period. We will encounter the oued (River) ziz, its source is located in the middle atlas region and continues all the way to the Sahara to reach Algeria, alongside the river is surrounded by a stunning 125km belt of green palmaris.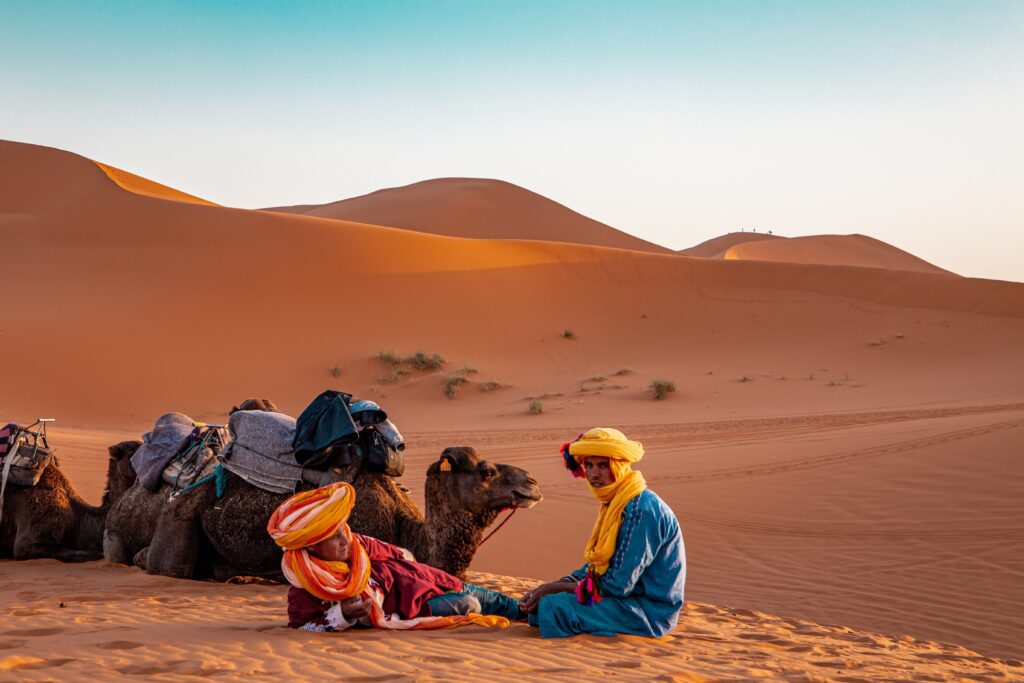 We arrive to Erfoud the capital of Fossils in Morocco  It was built by the French in the 1930's as an administrative center. It is a quiet place characterized by its red buildings and gorgeous scenery. well known for its  wood-fired madfouna (Berber 'pizza'), during our stop  you will have the chance to visit one of the factories where they make beautiful articles out of marble, right after we will drive to Erg Chebbi, time for a cup of tea and packing for desert camp. Meet up with Camels for camel-ride and head to the dunes to watch the sunset .Overnight in the Berber tent in the middle of the most spectacular dunes of morocco, Highest dunes, spend 1 night the friendly Berbers enjoy their music, dance around the fire… dinner in the camp.
Day 2- MERZOUGA – TODRA GORGE – DADES GORGE
your guide will wake you up to witness  the most magical sunrise from the highest golden  dunes, chance to see some wildlife. Time for breakfast and shower, last chance to enjoy the dunes, we set off to Rissani where we will  visit the mausoleum of Moulay Ali Chrif the founder of the actual Alaouite dynasty of Morocco at 17th century. Then we drive to the most spectacular gorge of Morocco, Todra gorge, enjoy a walk with your guide to explore the irrigation system and traditional farming gardens, a visit to a berber family to learn about carpet, recommended, to knock your socks off, after the berber family co-operative, showing their goods and carepets, great place to shop from mohamed's family ( situated in the other side of the river near the mosque ) great place to buy genuine berber carpets and souvenirs, then you walk to the gorge, drive back to your hotel in the Tinghir.
DAY 3: DADES VALLEY – OUARZAZATE – AIT BENHADDOU – MARRAKECH
Aït Benhaddou Kasbah has been a UNESCO World Heritage Site since 1987,this Unesco-protected red mudbrick ksar (fortified vilage) built in the 11th centuryand used to be  a strategic stop for caravans of camels, , often numbering hundreds, on the trans-Saharan trade route from the Sudan to Marrakech carrying gold, silver and slaves and returning with salt,Afterword we will  head to Marrakech via the tizin'tichka pass .we'll stop to visit the town of Telouet and its ancient 17th century Kasbah then we'll continue exploring the tIzin'tichka road especially its great landscape of Berber's villages, then we head north to Ouarzazate after crossing the  Anti-Atlas Mountains, continue to Marrakech by Tizi n Tichka pass. Overnight in Marrakech after a long day drive.
Visited Places on this Fes To Marrakech 3 Days Desert Tours
Atlas mountains

Ziz Valley

Tizi n'Tichka Pass

Ait Benhaddou Kasbah

Ouarzazate

Valley of roses & Todra Gorge

Errissani Traditional Markets

Erfoud

Berber village

Sahara Desert
Travel Experience
Desert Morocco tour experience

Moroccan Culture & People, Food & History

Berber family

Camel trekking

Berber music and animation

Sleeping in desert camp
Highlights
– View the stunning contrast of the Sand dunes desert landscapes

– Enjoy authentic Berber's hospitality

– Taste delicious traditional Berber food

– Explore one of Morocco highest desert dunes

– Ride in a 4×4 in Sahara & Atlas Mountains

– Spend 1 night under the tents or under the stars

– Spend three full days seeing the best of what Sahara has to offer
Quick Facts
Duration: Three Days
Pick-up points: Your Fes Hotel
Drop off Point: Your Marrakech  Hotel
Essential Information:
Why Us Tomoroccotour
– Pick-up from your hotel, so you spend the maximum time in Sahara Desert & Atlas Mountains.
– Private tour at your own pace– Top Rated tour, with 5 star customer feedback and a Excellence reviews from Trip Advisor
– One guide that is with you from the moment you start the tour until you leave, taking care of your entire trip.  
About Tomoroccotour
We take you to the attractions of Morocco from historical sites of the medina of Fes and Marrakech , Atlas mountains, Sahara desert  To sharing experiences with local women because we believe the best way to have a positive impact locally is through connecting and forming quality relationships.  Doing so helps us create experiences that will truly be of value for everyone we look forward to maintain the genuine culture of local communities in Morocco and. our hope is reminding our intangible heritage through our sustainable journeys.
What to bring:
– Valid passport – Money for Personal Spending and Monument fee.
– Warm clothes for night – Camera, Sun Cream, Creams and Pens for Berber women (optional
Marrakech To Fes Desert Tour will  take you off the beaten tracks through less undiscovered places where you can experience a sense of wilderness,  Camel ride in and out of the Erg chebbi dunes, breathe clean air of the Sahara desert and explore the diversity of wonderfully changing landscapes with splendid undulating sand dune.