Best Things To Do In Morocco
Morocco is a pretty incredible country to explore. Now, I know I say that to lots of places, but I truly mean it! It's one of those countries that's so much more than just the Souks of Marrakech, with so many of the best things to do in Morocco outside of the city itself.
From the unspoilt Atlas Mountains, gorging on all the tagines, visiting the blue village of Chefchaouen and seeing the red landscape of Legzira.
You'll have the best time exploring, just remember to plan ahead and gorge on all the amazing food and tasty sweet tea I swear, I was on a sugar high throughout our whole trip.
Anyway, before I continue rambling, take a look at some of the very best things to do in Morocco.
Hands down, one of my favourite sites in Casablanca has to be the Hassan II Mosque. It's breathtakingly beautiful and a place you have to see when in the city.
If you're looking for some local pottery or leather goods, pop over to the Quartier Habous where you'll find lots of treasures to take back home. You'll also find a good few spots in the old medina, too.
See the medina in Fez
One of the best things about Fez is its thriving cultural scene; it's filled with everything from artists' galleries, history and amazing crafts.
When you're there, make sure to visit the medina, you'll get to see lots of tanneries if you want.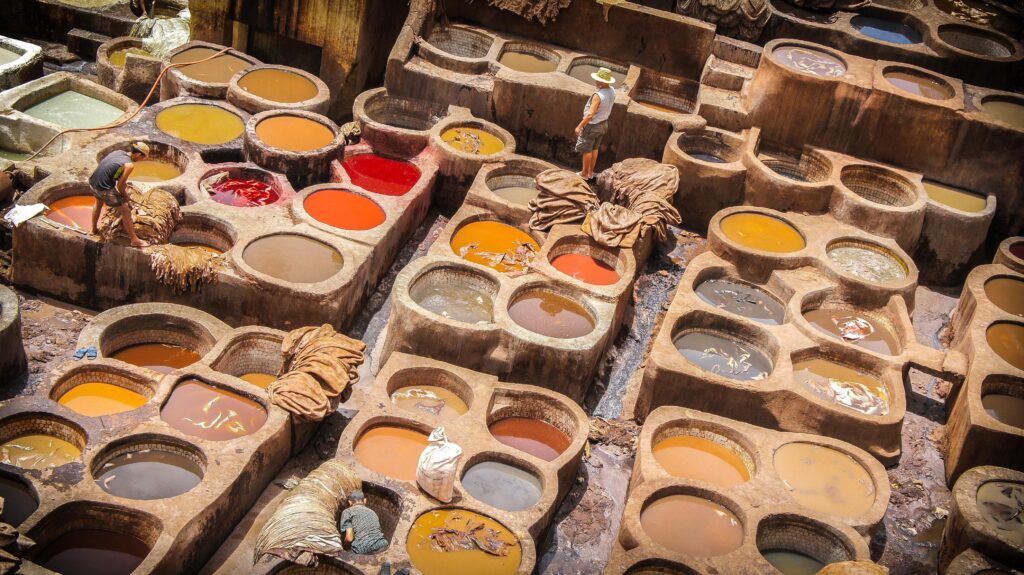 However, controversial opinion, I can't say I've ever seen one that's left me in awe or inspired me to see more.
For some gorgeous Moroccan buildings, head over to Bou Inania Medersa or the crumbling Tombe dei Merenidi.
You'll love the charm and it really is one of the best things to do in Morocco.
Aït Benhaddou
Possibly one of my favourite places in Morocco, Aït Benhaddou is a UNESCO World Heritage Site that looks like it's carved within the mountain itself.
This small little village is known locally as an ighrem (something similar to a walled and protected village) that was once used as a stopping point for traders through the desert.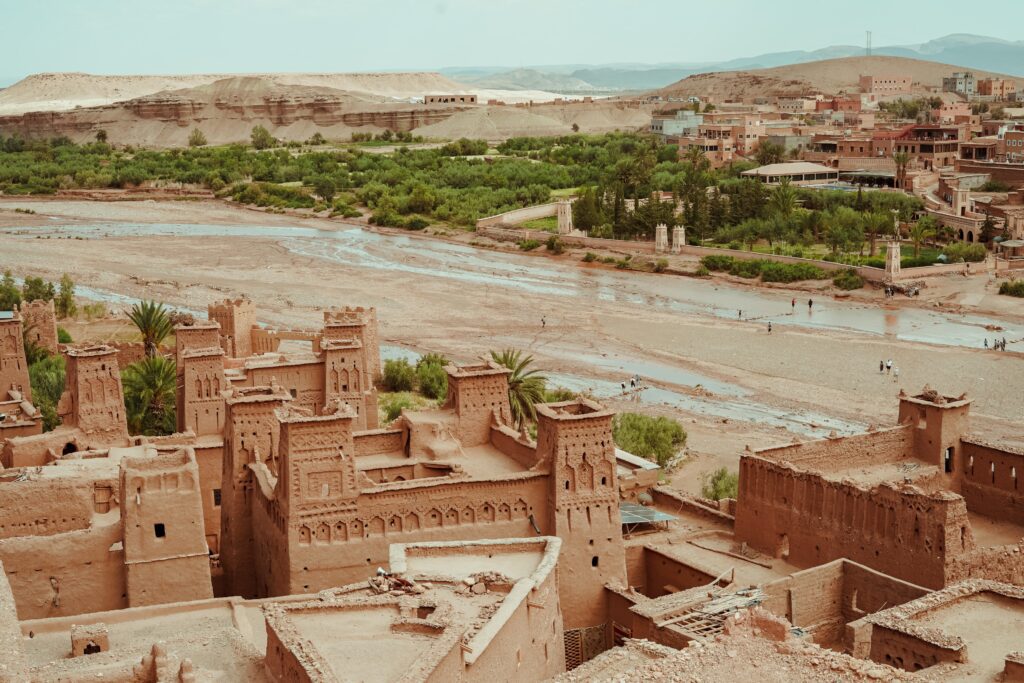 Although very few people live here now, it's still an incredibly beautiful village to see. Just make sure to arrive early to avoid the crowds (and that intense midday sun).
 See the city of Marrakech
Marrakech needs no introduction. It's probably the most well-known city in all of Morocco (at least, internationally.
Make sure to explore the markets and souks to find some gorgeous leather goodies. See the beautiful Jardin Majorelle, visit Ben Youssef Madrasa, El Badi Palace and wander around Bahia Palace.
One note of caution about the snake charmers you see in the streets, often the snakes are captured from the wild and some even have their mouths sewn shut and fangs pulled out (so they can't harm us).
See the Blue Village of Chefchaouen
Around 60 km south of Tangier, and perched within the Rif Mountains, Chefchaouen is an iconic village you won't want to miss.
It's stunning and easy to visit by booking this incredible tour from Fes that'll take you all around the blue town itself. The tour itself is around 12 hours and well worth it to learn more about the local learn about culture and history of Chefchaouen. 
It really is iconic and one of the best things to do in Morocco when exploring the country. The old town is literally awash with blue buildings that make it such a unique place to see.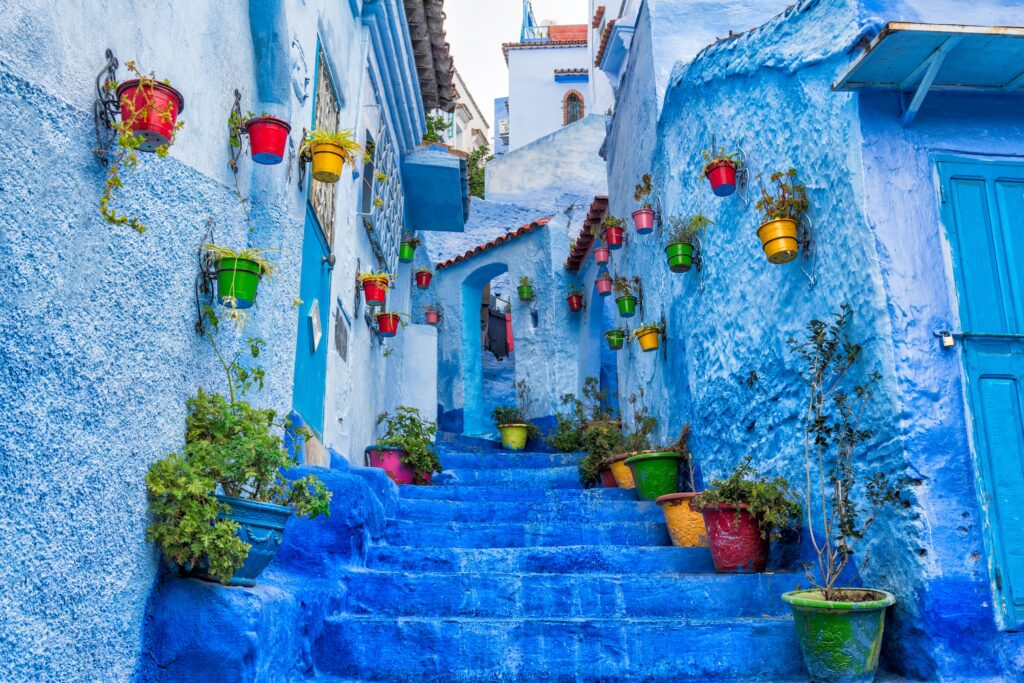 Make sure to visit the medina, you'll find it a much more relaxing and calm experience compared to the souks of Marrakech.
The Spanish Mosque is also a great little spot to see.
Walk the desert at Merzouga
In the east of Morocco is the tiny little village of Merzouga.
Situated a stone's throw from the Algerian borders, it's nestled in the sand dunes that make this a perfect place to explore the Sahara Desert. If you're really lucky, you might even spot a few flamingoes too.
The drive from Marrakech can be up to 10 hours, so make sure you book yourself on a responsible tour that'll take you. You can usually partner this up with a night in the desert yurts, too.
Want to stay longer? You can book a 3-day tour from Marrakech to Merzouga. You'll get to stay at a Bedouin camp in the Erg Chebbi dunes (which is such a unique experience) and get to see the Kasbah of Ouarzazate, too. 
Explore the capital, Rabat
Perched on the Atlantic Ocean, Rabat is the capital city of Morocco. Make sure to visit the Kasbah des Oudaias, see the Hassan Tower and explore the Royal Palace.
For some tasty food, pop into Dar Zaki which serves a heart-warming Harira Soup.