The best things to do in Morocco
Morocco is one of the most exotic countries in North America. It shares borders with Algeria and Western Sahara and is bordered by the Mediterranean Sea, Atlantic Ocean, and the Red Sea (via its southern provinces). The land itself is dynamic; it contains mountainous regions and desert landscapes that are both beautiful and dangerous. While there's no doubt about it — Morocco is a challenging place to travel — it's also filled with adventure, mystery, and beauty. So if you're looking for an escape from everyday life, take a look at our list of 15 best things to do in Morocco!
 Explore the Kasbah of Ait Benhaddou
The Kasbah of Ait Benhaddou is a UNESCO World Heritage Site and one of the best-preserved examples of a traditional kasbah. It's located in the Anti-Atlas mountains and was used as the setting for Game of Thrones. You can explore its labyrinthine streets, climb to its towers, or marvel at its ornate architecture while enjoying panoramic views over the surrounding landscape. It's about a 3.5 hour drive from Marrakech, but it isn't difficult to get a driver or tour bus to see this amazing place.
 

Take a Moroccan cooking class in Marrakech
If you want to learn more about the culture, history, and ingredients of Moroccan food, a cooking class is the best way to go. Marrakech is known for its great marketplaces and spice souks. In these markets, you can buy fresh spices, vegetables, and meats for your cooking class.
There are always a wealth of options to find fascinating and informative cooking lessons with local chefs who have been trained in traditional Moroccan cuisine by their grandmothers or mothers. They cater to a variety of skill levels
The lesson starts with making tajine and couscous before moving on to desserts like briwat (a sweet pastry made with almonds). You'll learn about regional variations of each dish as well as how they're prepared at home in Morocco. Enjoying a delicious meal made by hand is one thing; enjoying one while learning about local culture makes it even better!
 

Hike to the summit of Jebel Toubkal in the High Atlas Mountains
If you're looking for an unforgettable trekking experience, then hiking to the summit of Jebel Toubkal in Morocco's High Atlas Mountains will certainly fit the bill. This well-known hike is one of Morocco's most famous and popular activities, attracting thousands of visitors annually. The mountain itself stands at 4167m (13,671ft), making it higher than Mount Everest!
You can choose between taking a tour or doing it on your own. If going solo isn't your thing, then hiring a guide will help make sure that you get off on the right foot and have an enjoyable trip overall. If you do decide to go on your own though, make sure that you're fully acclimatized before starting out—and don't forget everything else that comes along with planning any outdoor adventure!
Marvel at Hassan II Mosque in Casablanca
One of the most beautiful and impressive mosques in Morocco is Hassan II Mosque, located in Casablanca. This mosque was built by King Hassan II in 1993 and is one of the most visited tourist attractions in Morocco. The mosque can accommodate up to 40,000 worshippers at once, making it one of the largest mosques in North Africa and allowing for an uninterrupted view from within its central hall.
Walk through the spice-scented streets of Fes' medina
The medina of Fes is one of the best ways to experience Moroccan culture, and it's a must-visit for any first-time visitor. The ancient city is home to thousands of small shops selling everything from spices and tea to leather goods, carpets, ceramics, and more.
You can walk around the medina in its entirety in about an hour or two (depending on how much time you spend shopping!). You'll be lost in no time if you don't have a guidebook with you or someone who knows their way around — but don't worry: getting lost here might be one of the best parts! If locals try to be pushy, a firm "la, shokran" will communicate that you are not interested and don't need their help. People in Fes can be quite pushy, so just be firm.
Climb the ramparts of Essaouira's fortified old town
The ramparts of Essaouira are the city's best place to watch the sunset. They look out over the sea and provide great views of both the Atlantic Ocean and the medina. In addition, there are many spots from which you can take pictures of the Old Town with its colorful buildings, white walls, and blue doors.
The ramparts also offer a great sense of history. Built in 1694 by Moulay Ismail Ben Abderrahmane (the Sultan of Morocco), they were designed to protect against pirates who often attacked this coastal city during that time period.
Finally, they're an excellent place to get away from crowds!
Go camel trekking in Merzouga
Want to go camel trekking in the desert without having to camp out? The best way is to go on a day trip from Marrakech. You'll ride for about an hour and then spend the rest of the day trekking around, learning about Morocco's culture, and visiting with local nomadic families.
You'll get up close and personal with camels, learn how they're taken care of, and even have the chance to ride one yourself!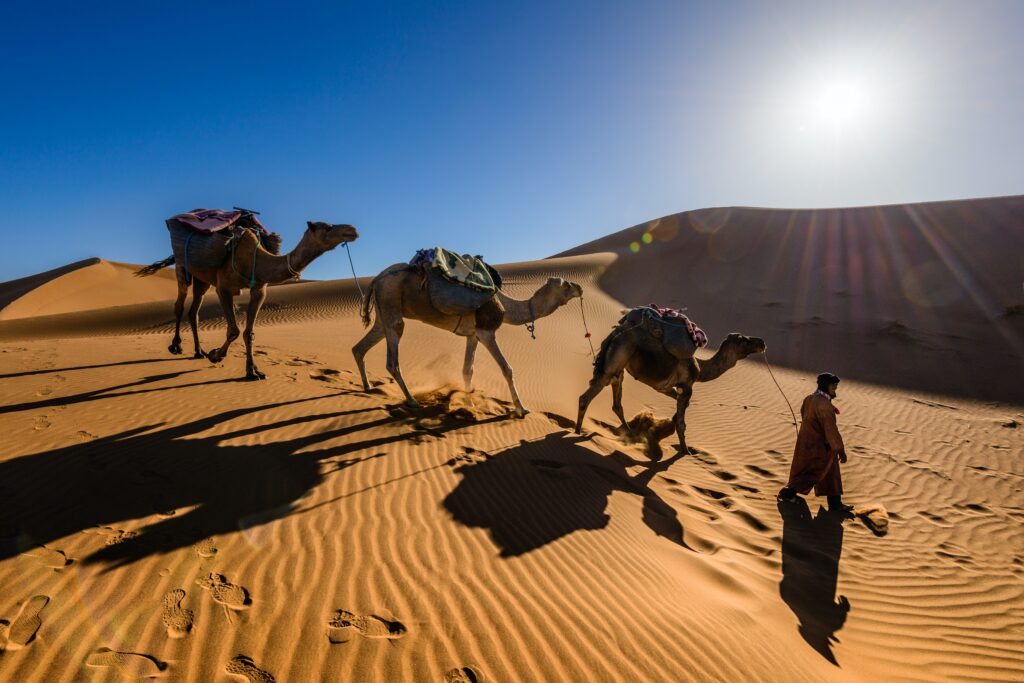 1.) Explore Casablanca,
2.) See the medina in Fez,
3.) Wander through Aït Benhaddou,
4.) See the city of Marrakech,
5.) See the Blue Village of Chefchaouen,
6.) Walk the desert at Merzouga,
7.) Explore the capital, Rabat,
8.) Spend a few days in Tangier,